Dam, MAM, PIM & more
eyebase Connected Digital Asset Management (cDAM)
Interconnected. Multi-functional. Flexible.
If you connect everything, you have to search less.
With eyebase, you can achieve more flexibility for your business model and more efficiency for your specific way of working without complex additional programming and with short project runtimes than with what common DAM systems offer. After all, eyebase is not just about storing media assets, but about linking them, actively using them and designing workflows - multilingually.
eyebase can be integrated more easily and with shorter project times than comparable applications and can be connected to your systems via a comprehensive API: E-commerce platforms, CRM, PIM and ERP systems, internal and external databases, geo-information systems and much more. And of course your Adobe Creative applications, Microsoft Office programs and content management systems like Typo3 and Wordpress are directly connected.
You can use eyebase in very different areas:
Marketing: The topics Single Source of Truth, data silos and Product Experience Management (PXM), which marketing is currently dealing with, can be effectively addressed with eyebase, also because eyebase includes a PIM module (Product Information Management system) that allows you to ingest product data from your ERP or PIM and connect product data with product media.
With a brand portal you let your advertising agency or media service provider access logos and images. Graphic designers and copywriters enjoy an automated filing system, a working versioning of their files and a practical duplicate search, but above all the fact that the delivery of media to stores, websites, externals, partners and various other channels can be automated.
In the facility management of a housing company or in the technical building management of an industrial park: have damage reports documented via smartphone app and sent live for processing, provide the commissioned trades with building plans or supply the rental portal of your real estate company with images, floor plans and property data.
Trade, customer service, public relations, industry: eyebase helps you to network media files and data from all company areas across department and company boundaries, including resellers, distributors, dealers, partners, suppliers and customers. You can also make portals available to external parties, for example as a customer portal to exchange files live with customers, as a partner portal for your dealers and suppliers, as a PR and press portal, as a media library and for much more.
Operation and administration of the system is done via browser - Firefox, Opera, Chrome, Safari, Edge - all current browsers can be used. For Android and iOS there are additional apps.
eyebase is one of only a few systems that are not only available as a cloud solution (SaaS). If your company belongs to the critical infrastructure or for other reasons relies on maximum security, you can also run eyebase as a local installation in your own private cloud on your own servers, i.e. "On Premise".
Images and everything else.
In eyebase you can import and link everything: photos, videos, documents, drawings, manuals, data sheets, layouts, texts, addresses of suppliers, customers, partners. Link all your systems with the API: CRM, ERP, PIM, CMS, webshop.
Find without searching.
Connecting versions, variants, layouts, model contracts, people, companies, creates possibilities: see which agency photos have expiring useful life, what is public in websites and webshops, what product media are there and in media everything about the product. If the connection is there, you don't have to search.
Suit your business.
Metadata is bulky when you need more than metadata standards like IPTC IIM, Adobe XMP, IPTC Core, EXIF.In eyebase you can align metadata to your business model, without programming and long projects and find everything: Product data, presentations, videos, images, addresses, versions, duplicates.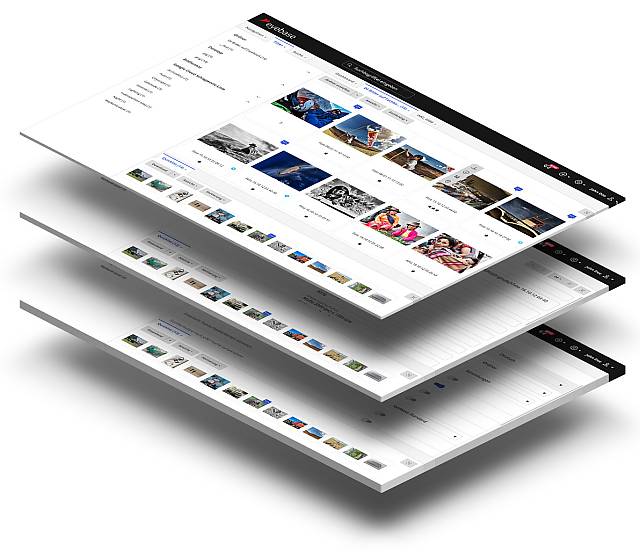 International and multilingual.
eyebase is as international and multilingual as your customers, employees, partners. Metadata and user interface can be used multilingually throughout:Image captions, product descriptions, even folder names and entire portals in multiple languages are possible without much effort.
Publish automatically
Publish images, videos, PDFs and more automatically to any channel - converted, transcoded, in other formats, just as the target channel needs it, only instead of using diligence and Photoshop actions automated in eyebase. With the REST API, you can deliver to channels that are not the usual.
DRM & PIM integrated
DRM (Digital Rights Management) and PIM module (Product Information Management) are integrated. You have not only the overview of product media but also of product data. You can connect the eyebase PIM to an ERP or an upstream PIM, but you can also maintain your product data in it yourself.